Four Winds in The News! Managing a Remote Workforce
Posted March 27, 2020 by Communications
As the Conora virus outbreak continues to make it's way across the US and the rest of the world, companies have turned to remote technology and it has really saved the day. It has allowed employers to send employees home to keep them safe while also giving them the flexibility to maintain vital business operations. The problem is there is a lot more to maintaining and supporting a remote network than most think and it has posed some challenges to companies new to remote work.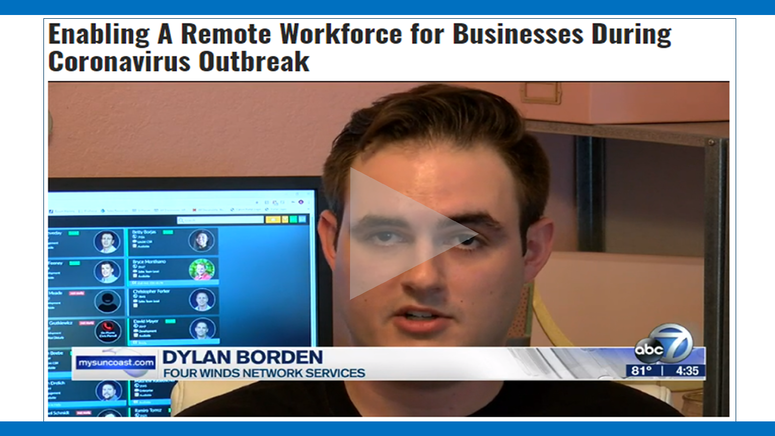 Four Winds is working with companies from Sarasota and the rest of Florida to close this knowledge gap and last week we had a chance to sit down with Rebecca Fernandez from ABC 7 My Suncoast and discuss some of these challenges and what businesses can do to make sure they are prepared.
One topic we discussed is how employees typically don't realize everything they need to be successful when working remote until actually do it. For instance, if you have a 30 person sales staff how will team members know when their co-workers are at their desk and available to help?
In the office its easy to let your team know you are taking a lunch break or have an off-site meeting but when everyone's scattered you want to make sure you this is part of your remote work policy. It could be as easy as setting a status or sending out a quick email to your department, but simple things like this add up and can slow down your business if you don't address them ahead of time!
Check out the full story or click HERE if you need help setting up your remote workforce!
Want to Know More?
Leave your information to get in contact with a Four Winds Pro!