Four Winds Recognized As One Of 2020's Most Promising IT Providers
Posted October 7, 2020 by Dylan Borden
On the heels of being named SMB of the Year by the Sarasota Chamber of Commerce, Four Winds has just been recognized as one of the Most Promising IT Service Providers of 2020 by CIOReview Magazine! We are one of 20 companies across the country to be selected for the award and couldn't be more proud of our team for all the hard work and dedication they have shown through these trying times.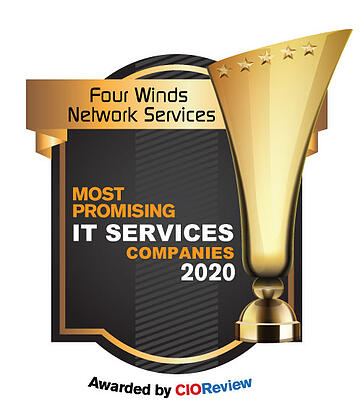 2020 has certainly been a challenging year for every business but our entire staff has really risen to the occasion and shown their ability to adapt and persevere. Whether this meant scheduling onsite projects over weekends to limit our client's exposure to the Covid-19, or in depth training to ensure our partners not only had the right tools to work remote but also knew how to use them, our team made sure our clients always came first.

"

As a company we will celebrate, but we will also take this victory and use it as a catalyst to be better because at Four Winds we are never satisfied. We are always on the lookout for ways we can improve upon what we already do so we can truly be the best there is. For us, this is only the beginning and we look forward to what's next!

"
For the full CIOReview article follow the link below:
https://it-services.cioreview.com/vendor/2020/four_winds_network_services
Want to Know More?
Leave your information to get in contact with a Four Winds Pro!