2 min read
Five Ways Outdated Tech Hurts Your Business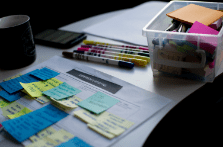 1.

Decreased Productivity

When a company lacks the right systems to manage key business processes, employees are forced to develop their own methods and workarounds to accomplish day-to-day tasks. Sometimes these methods are shared with others, but rarely in a way that can be easily duplicated and adopted across the entire organization.

When systems aren't integrated, employees spend time "reinventing the wheel," repeating processes instead of streamlining them - taking away from revenue-generating activities. The right technology solutions will increase productivity and reduce operating costs through standardization.

---------------------------------------------------------------------------------------------------------------------------
2.

Heightened Security Risk

Clinging to old versions of software to save the cost of updating can be a recipe for disaster. Microsoft, along with most vendors, discontinues support and critical security updates for outdated OS versions once new versions are released. The longer an operating system has been around, the more time hackers have had to learn its vulnerabilities (displaying the value in scheduling regular updates and patches). Despite these well-known risks, the State of IT data (as of April 2016) shows that 66 percent of companies are still running Windows XP, and 60 percent are still using Windows Server 2003 — two systems that are no longer supported by Microsoft.

To put that in perspective, using Netmarketshare figures, Windows XP is still the third-most-popular desktop OS, trailing only Windows 7 (48.1%) and Windows 10 (25.19%).

And there are almost as many PCs running XP (8.45%) as Windows 8.1 (6.87%) and all versions of Mac OS X combined (2.91%).

Also, frustrated employees using slow, outdated hardware (hard drives, video cards, and CD-ROMs), tend to use their own devices on your network, increasing security risks, unnecessarily exposing your network to additional cyber threats.

---------------------------------------------------------------------------------------------------------------------------
3.

Disappointed Customers

Consider the many ways that customers interact with your company on a daily basis. Is your current outdated technology helping or hindering the customer experience?

How often have you checked out at a store and waited and waited for a receipt so long that you wondered if something went wrong with the transaction? Have you ever had a call drop or routed to the wrong person when you were on the phone? Have you ever waited days for a simple email confirmation of purchase? What type of impression would you have of these businesses?

Today, customers have certain expectations when it comes to technology. They won't hesitate to take their business elsewhere if a company cannot consistently deliver a great customer experience.

---------------------------------------------------------------------------------------------------------------------------
4.

Hiring and Retaining Talent

We all know that outdated technology is annoying – constant computer errors, crashes, waiting minutes for a file to open. But IT that is behind the times can be more dangerous for a company than inflicting minor irritation and productivity loss.

Millennials have no trouble with technology. They grew up immersed in it. A study sponsored by Dell and Intel found that more than 80% of millennials say workplace tech will influence their job decision. Additionally, 42% would leave a job with unsatisfactory technology. With millennials accounting for an estimated 75% of the workforce by 2025, your business had better meet their expectations. Showing you value technology, efficiency, and innovation, will help you not only attract but retain talent.

---------------------------------------------------------------------------------------------------------------------------
5.

Future Valuation and Sale

Investors are not looking for companies that are obsolete. They are looking for strong, future-proof organizations that will continue to grow and innovate so they can make money on their investment. As technology grows in business importance, it likewise plays an increasingly large role in initial valuation and eventual sale. Demonstrating that your business is willing and open to adopting new technologies and staying competitive is attractive to investors.

Businesses also must show they value proper cybersecurity – another integral part of modern IT. Data breaches especially, which are becoming more commonplace and advanced, can kill a company. No investor wants to inherit that kind of risk. "Putting the proper cybersecurity in place will protect important data, customer information, while helping to avoid having any unchecked IT risks derail future sale negotiations" (BizBuySell).

You don't always need the latest and greatest systems in place to be successful, but if you're not factoring technology into your strategic growth plan, the consequences can mount quickly.